17.11.2016 to 17.11.2016 - Raum D / Q21
Host: Q21
SUBOTRON pro games powered by Wirtschaftskammer Wien: Post-Mortems of Austrian Games: "The Lion´s Song"
ART
---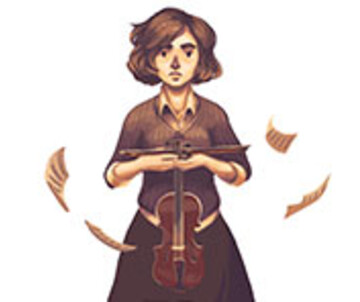 ---
All dates
• Days with event
01 tue
02 wed
03 thu
04 fri
05 sat
---
06 sun
07 mo
08 tue
09 wed
---
10 thu
---
11 fri
12 sat
13 sun
14 mo
15 tue
---
16 wed
18 fri
---
19 sat
20 sun
---
21 mo
22 tue
23 wed
24 thu
25 fri
---
26 sat
27 sun
---
28 mo
29 tue
30 wed
---
Venue: Raum D / Q21
Admission free

Gregor Eigner
CEO Mi'pu'mi Games

Mi'pu'mi Games is a Vienna-based independent game development company run by veteran developers with 10+ years industry experience at Rockstar and Ubisoft. The small specialist team collaborates with established AAA productions including the "Hitman" franchise and "Anno". Now Mi'pu'mi is working on its first independent title: "The Lion´s Song".

"The Lion's Song" is an episodic adventure game for PC and mobile. The game is steeped in early 20th century history and focusses on a cast of Austrian artists and scientists with each episode taking a closer look at their intimate struggles with creativity and inspiration. Originally created as a Ludum Dare project in 2014, "The Lion's Song" features a striking art direction and a unique setting. Four easily accessible episodes are produced for PC/Steam.
This talk will highlight the first year of development of an episodic game that was very well received by the press. The creative struggle of Austrian creators at the turn of the 20th century reached halftime with the recent release of Episode 2. How did it work out so far? What are Mipumi's learnings and take aways from its first original IP? What needed to be adapted, what needed to be changed? What didn't work at all? An interesting look behind the scenes where great original games don't have to be big.

Biography
Gregor Eigner is CEO and founder of Mi'pu'mi Games. In the last 7 years the company grew to 25+ employees. Mi'pu'mi's latest projects have been the port of "Hitman: HD Trilogy" for PS3 and Xbox 360 for Io-Interactive, "Anno: Build an Empire" for iOS and Android for Ubi Soft Blue Byte and a technology partnership with Io-Interactive supporting the new "HITMAN". Gregor studied law and economics and has 15 years of project management experience. He previously worked for Rockstar Games in Vienna and Ubi Soft Mainz, former Related Designs on well-known titles such as "Max Payne 2" and "Anno 1404". Gregor teaches law and production for game developers in Austria and publicly speaks from time to time, e.g. GDC Europe, Quo Vadis, BGF.


Back to main navigation