07.10.2016 to 07.10.2016 - Raum D / Q21
Host: Q21
SUBOTRON arcademy: Curating Videogames – The Escape From Cultural Purgatory /departure talk
FILM & DIGITAL CULTURE
---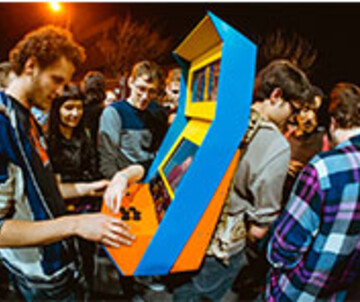 ---
All dates
• Days with event
01 sat
02 sun
03 mo
04 tue
05 wed
---
06 thu
08 sat
09 sun
---
10 mo
---
11 tue
12 wed
13 thu
14 fri
15 sat
---
16 sun
17 mo
18 tue
---
19 wed
20 thu
---
21 fri
22 sat
23 sun
24 mo
25 tue
---
26 wed
27 thu
---
28 fri
29 sat
30 sun
---
31 mo
Venue: Raum D / Q21
Admission free

Marie Foulston
Curator of Videogames at the Victor and Albert Museum, Co-founder Wild Rumpus, London

Videogames have graced the walls of the Smithsonian and have been accepted into the permanent collections of MoMA. The question of whether or not major art galleries and museums will welcome videogames has long been answered. Instead we now find ourselves in desperate need of engaging in more nuanced and complex discussions about the role of videogames culturally and escaping the relentless cultural purgatory of forever asking 'but….are videogames art?'.
What happens instead when we ask 'are videogames design? Are they performance? Are they architecture? Are they protest? Are they tools?' And where do such questions help lead us when searching for new and inspiring ways of curating and exhibiting such a complex and fascinating medium.

Biography
Marie Foulston is a playful producer and curator. By day she works as Curator of Videogames at the Victoria and Albert Museum in London (which is all very fancy and civilised), but by night she is co-founder and 'Queen Roughouser' of independent videogame collective Wild Rumpus (which is not that fancy and pretty uncivilised). She has a lot of love for the alternative, the absurd the playful and the disruptive.


Back to main navigation