07.03.2013 to 21.03.2013

Passages Passengers
ART, DANCE/PERFORMANCE/MUSIC, LEISURE & OUTDOOR
---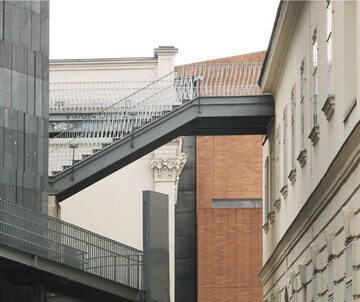 ---
All dates
• Days with event
01 fri
02 sat
03 sun
04 mo
05 tue
---
06 wed
---
---
---
---
---
22 fri
23 sat
24 sun
25 mo
---
26 tue
27 wed
---
28 thu
29 fri
30 sat
---
31 sun
Passages Passengers

Date: Thu, Mar 7, 14, and 21, 19:00-22:00
Location: MuseumsQuartier Wien, various locations
Check-In: DSCHUNGEL WIEN
Free admission

The MQ and its passages are like spaces of change within time. Twelve passages throughout the complex are transformed into temporary stages between home and away, life and death, the old year and the new. Visitors are immersed in the world of a fugitive who upon arriving in a foreign land enters into a purgatory between search and hope. In the Meteoritenpassage, evolution stands still for an instant between stuffed animals and shimmering meteorites while in another MQ passage the corks are popping. A live band sets the rhythm of the New Year waltz. This event is an interactive walking tour through the complex and life.
Map

Back to main navigation