27.07.2012 to 30.09.2012

TIKA (SUI): ANIMALISTIKA
FASHION & DESIGN, ART
---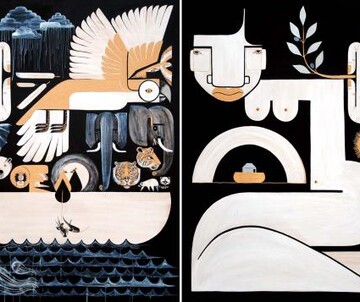 ---
All dates
• Days with event
01 sun
02 mo
03 tue
04 wed
05 thu
---
06 fri
07 sat
08 sun
09 mo
---
10 tue
---
11 wed
12 thu
13 fri
14 sat
15 sun
---
16 mo
17 tue
18 wed
---
19 thu
20 fri
---
21 sat
22 sun
23 mo
24 tue
25 wed
---
26 thu
---
---
TIKA (SUI): ANIMALISTIKA
Fashion Performance Followed by End-of-the-World Party
in the context of \"MQ Summer of Fashion\"

Date: Fri, Jul 27, 19:00
in case of bad weather: Sat, Jul 28, 19:00
Venue: MQ Main Courtyard, STREET ART PASSAGE VIENNA, quartier21/MQ
Free admission

Zurich-based mixed media artist TIKA transforms STREET ART PASSAGE VIENNA at the MuseumsQuartier into a Noah's Ark: In collaboration with the Viennese label Amateur and the Swiss label Aim, she is developing a fashion collection made up of creations that each represent one animal couple.

Polar bears, lobsters, tigers, elephants, parrots, jellyfish, peacocks, racoons, bats, and baboons will cavort in the passage. The catwalk becomes a rescue ship. In 2012, the Mayan calendar is coming to an end, and many are predicting the end of the world, but not for those who wear ANIMALISTIKA.

In advance of the event, interventions in public space will make people aware of the collection. TIKA will also be incorporating an image on the elevator tower in the passage. TIKA is a mixed-media artist and muralist. She lives and works in Zurich, Berlin, and Rio de Janeiro. In July she will be an Artist-in- Residence at quartier21/MQ.
Back to main navigation