01.06.2012 to 31.08.2012

STATION ROSE: LiCvid_APProach_02 #__fashion_stop
FILM & DIGITAL CULTURE
---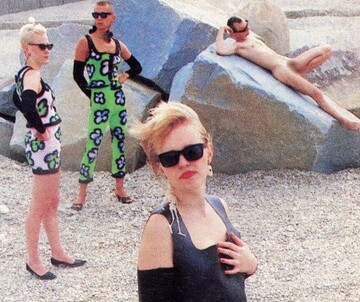 ---
All dates
• Days with event
STATION ROSE: LiCvid_APProach_02
#__fashion_stop
im Rahmen des "MQ Summer of Fashion"

Datum: bis Fr 31.08., täglich 10-22h
Ort: V_port, Electric Avenue
Eintritt frei

Als Beitrag zum MQ Summer of Fashion werden die digitalen Künstler Station Rose in ihre Archive hinabsteigen und Videoarbeiten ihrer frühen "Mode mit Musik"-Projekte ausheben.
Die Künstler begannen 1983 mit Fashion Performances und haben so die Wiener Modebewegung, später U-Mode genannt, gestartet. Elisa Rose war Studentin bei Karl Lagerfeld an der Angewandten, Gary Danner spielte mit seiner Band "Die Nervösen Vögel". ER & GD arbeiteten in den 80er-Jahren mit einer Cross-over Form von Kunst, die Performance, Musik, Video und Mode inkludierte. Mode ist nach wie vor Teil ihrer Kunst.

Gezeigte Videoarbeiten (Ausschnitte):
Elisa Rose jr. & Gary Danner/Die Nervösen Vögel
1983: "Kreuze, Blumen, Drachen" U4 Club
1984: "Vorboten einer neuen Welt", Szene Wien & Posthof, Linz
1985: "Uranus mit seine 5 Monden", Museum of Modern Art, Palais Liechtenstein, Vienna
1989: "Gunafa Show", Ars Electronica
sowie eine Photoarbeit von Station Rose & Elfie Semotan
2008: LogInCabin, MAK Vienna, RaucherInnen Zimmer
Back to main navigation