30.09.2011 to 20.11.2011

TOTEM AND TABOO. complexity and relationships between art and design
FASHION & DESIGN, ART
---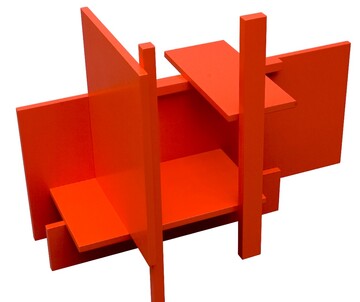 ---
All dates
• Days with event
01 thu
02 fri
03 sat
04 sun
05 mo
---
06 tue
07 wed
08 thu
09 fri
---
10 sat
---
11 sun
12 mo
13 tue
14 wed
15 thu
---
16 fri
17 sat
18 sun
---
19 mo
20 tue
---
21 wed
22 thu
23 fri
24 sat
25 sun
---
26 mo
27 tue
---
28 wed
29 thu
---
---
---
---
---
---
---
21 mo
22 tue
23 wed
24 thu
25 fri
---
26 sat
27 sun
---
28 mo
29 tue
30 wed
---
TOTEM AND TABOO. complexity and relationships between art and design

Date: Oct 1 to Nov 20, daily 10:00-19:00
Press tour: Fri, Sep 30, 10:00
Opening: Fri, Sep 30, 19:00 in the context of VIENNA DESIGN WEEK
Venue: freiraum quartier21 INTERNATIONAL
Free admission

Photos of the opening (c) eSeL

Panel \"Overlaps in the Inner Life of Art and Design\"
Sat, Oct 1, 18:00
Venue: Arena21
With designer Martino Gamper, psychoanalyst and art historian Hans-Otto Thomashoff, and curator Tido von Oppeln in cooperation with the Sigmund Freud Museum Vienna, sponsored by Le Meridien

Children\'s workshops \"Crafts and Skills\"
Sat, Oct 15 & Sun, Oct 16, 14:00-17:00 with Clemence Seilles and Mirko Mielke
Sat, Nov 5 & Sun, Nov 6, 14:00-17:00 with Kueng Caputo and Stephane Barbier Bouvet
Registration: office@mqw.at

Artist Talks with Joe Scanlan and Gianni Pettena
Thu, Nov 17, 18:00
Hosted by curator Elena Agudio, with support from Dornbracht Culture Projects during VIENNA ART WEEK
Presention of exhibition catalogue published by SCHLEBRÜGGE.EDITOR

TOTEM AND TABOO is an exhibition about conventions in art and design. Since the 1960s, artists have repeatedly used design objects in their work as references, and for some time design has been incorporating concepts and formats from art. One offs and limited editions are produced solely for exhibitions, transforming design from utility to an event. The exhibition concentrates on contemporary art and contemporary design. Rather than explaining its subject, it explores a gap in the discourse on design and art and questions the boundaries of disciplines.

TOTEM AND TABOO views art as a hypothetical \"father figure\" or relative of design. The metaphor of family relationships or family similarity led the group of writers and curators behind the show to take a closer look at Sigmund Freud\'s \"Totem and Taboo\". He wrote this collection of essays around 1910, about the same time that modern design first emerged as a discipline. The totem is an object representing an absent relative, and the taboo refers to the fear of incest, or in other words excessive closeness to a relative. The curators have used Freud\'s book as a model to describe the relationship between design and art.

Participating artists/designers:
Øystein Aasan, Stephane Barbier Bouvet, Paolo Chiasera, Jan De Cock, Martino Gamper, Jeppe Hein, Lisa Lapinski, Rodney LaTourelle & Louise Witthoeft, Kai Linke, Kueng Caputo, Studio Makkink & Bey, Michaela Meise, Mirko Mielke, Manfred Pernice, Gianni Pettena, Bertjan Pot, Stefan Sagmeister, Andrea Sala, Joe Scanlan, Clemence Seilles, Judith Seng & Alex Valder, Jerszy Seymour, Florian Slotawa, Albert Weis, Johannes Wohnseifer, Heimo Zobernig, et al.

Curator team:
Elena Agudio, Bessaam El-Asmar, Tido von Oppeln, and Alexandra Waldburg-Wolfegg

Coordination:
Elisabeth Hajek

www.totemandtaboo.net

Part of the quartier21 exhibition series freiraum quartier21 INTERNATIONAL. Organized in cooperation with the Federal Ministry for European and International Affairs, the Mondriaan Foundation, the Institute for Foreign Cultural Relations (ifa), and the Werkbundarchiv - Museum der Dinge (Berlin), as well as partners from Austria and abroad.
Back to main navigation