07.06.2011 to 30.11.2011

STATION ROSE is Back ! STRIB_01
FILM & DIGITAL CULTURE, ART
---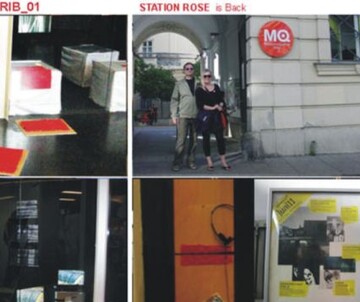 ---
All dates
• Days with event
01 wed
02 thu
03 fri
04 sat
05 sun
---
06 mo
---
---
---
---
---
---
---
---
STATION ROSE is Back ! STRIB_01

Datum: 07.06. bis 30.11., täglich 10-22h
Ort: V_port, Electric Avenue
Eintritt frei

Stationsbetrieb 03: Sa 01.10., 20h
Public viewing des 100min. TV-Berichtes über Station Rose auf OKTO in der STR-Installation (als Stream & im TV). Die Künstler sind anwesend.

Die STRasse des quartier21 ist der gemeinsame Treffpunkt. Nachdem Station Rose/STR 20 Jahre im Ausland tätig war (neben Aktivitäten in Wien throughout the years), sind Elisa Rose & Gary Danner nunmehr exklusiv in Wien zurück - back Home. Im Februar 2011 wurde ihre zweite Basis in Frankfurt aufgegeben, Station Rose´s Headquarter ist wieder in Wien.

Station Rose verlängert ihre Präsenz im MuseumsQuartier, wo sie seit Juni aktiv ist, und bespielt den V_port mit der Medieninstallation "Station Rose is Back/STRIB_01" weiter.
"Eine subtile audiovisuelle Intervention an einem urbanen Transitort der Kunst, die auch lange nach dem Verlassen noch im Hirn weiterbrummt." - Didi Neidhart

Im Laufe der Ausstellung sind Stationsbetriebe geplant, der nächste - "Stationsbetrieb 03" - findet am Sa, den 01.10.2011 um 20h statt. Somit wird eine Reihe fortgesetzt, die in der Station im 4.Bezirk 1988- 1991 gestartet wurde. Im Laufe der Zeit nimmt STR prozessuale STRIB_01- Installations-Updates vor, und wird ab und an vor Ort agieren, performen.

Die audiovisuelle Installation STRIB_01 wurde nun nach dem Sommer für den Stationsbetrieb 02 upgedatet. Der Soundtrack zur Installation STRIB_01 wurde verfeinert, Samplebausteine wurden ersetzt und modular umgestellt. Ebenso wurde die visuelle Information einem Upgrade unterzogen, die Verflechtung mit der Musik weiter intensiviert. Das Thema Wasser ist visuell nach wie vor ein Leitmotiv, erfährt ein nachsommerliches Venice_Meeres-Update unter paralleler Verwendung von Donau-Samples.

Die Verstofflichung schreitet weiter voran, neue Stoffarbeiten materialisieren sich aus dem gefreezten audiovisuellen Fluss, verbinden sich mit der digitalen Information der Installation, mäandern aus dem Schaufenster heraus auf die STRasse. Das Thema "Recycling Surplus to Save Nature" ist in der Produktion prominent eingesetzt. Die Sinnlichkeit von used material trifft auf neue digitale AV-Kompositionen.
Nachbarschaftliche MQ-Beziehungen werden nach wie vor gepflegt. Die kommunikations-bereite STR gets in touch with others. Sie sind dazu herzlich eingeladen.

Digitales Archiv der Station Rose
Back to main navigation