10.06.2011 to 02.11.2011

KLANGHIMMEL MQ: Matthias Frommelt - Nächtlicher Äther
LEISURE & OUTDOOR, FILM & DIGITAL CULTURE, ART
---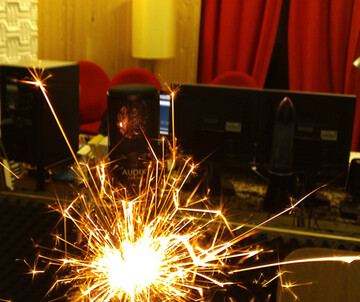 ---
All dates
• Days with event
01 wed
02 thu
03 fri
04 sat
05 sun
---
06 mo
07 tue
08 wed
09 thu
---
---
---
---
---
---
---
---
03 thu
04 fri
05 sat
---
06 sun
07 mo
08 tue
09 wed
---
10 thu
---
11 fri
12 sat
13 sun
14 mo
15 tue
---
16 wed
17 thu
18 fri
---
19 sat
20 sun
---
21 mo
22 tue
23 wed
24 thu
25 fri
---
26 sat
27 sun
---
28 mo
29 tue
30 wed
---
MQ KLANGHIMMEL: Matthias Frommelt - Nächtlicher Äther
Datum: 10.06. bis 02.11., täglich 0-24h
Ort: MQ Haupthof
2011. TONSPUR 44. 8-channel composition
(musical soundscape). 20.45min
Playtime: Every Monday, Tuesday, Wednesday and Friday at 22:45pm and 00:05am.
"Ich verstand die Stille des Äthers, der Menschen Worte verstand ich nie." (Friedrich Hölderlin)
Nächtlicher Äther geht von einer Aufteilung des Nachthimmels in drei Ebenen aus: den Äther, die (ruhenden) Sterne und bewegte Kometen.
Der Äther diente in der Physik des 19. Jh. dazu, die Bewegung des Lichts zu erklären, dessen Ausbreitung im Raum aufgrund seiner Wellennatur nur innerhalb eines Mediums vorstellbar war. "Äther, Lichtäther, nach allgemeiner Annahme der neueren Physik ein äußerst feiner und höchst elastischer Stoff, der [...] im ganzen Weltraume ausgebreitet ist." (Brockhaus 1901) In diesem Sinne schwappt der klangliche Äther durch den Hof des Wiener MuseumsQuartiers. Anfangs heller in der Abenddämmerung, wie im Traum dunkler werdend, um am Ende den neuen Tag zu begrüssen. Fast zähflüssig legt er sich über den Platz und scheint die Zeit zu verlangsamen. Die Sterne prangen darüber und weiten den akustischen Raum nach oben. Und Kometen ziehen ihre Schweife wie Pinselstriche über die Leinwand aus Äther.
- Matthias Frommelt
Matthias Frommelt
Born in Chur, Switzerland in 1975, grown up in Liechtenstein. Lives and works in Zurich, Switzerland. Audio engineer and composer. Supported by Kulturstiftung Liechtenstein.
Back to main navigation