23.03.2011 to 28.08.2011

The long vacation
CHILDREN & FAMILY
---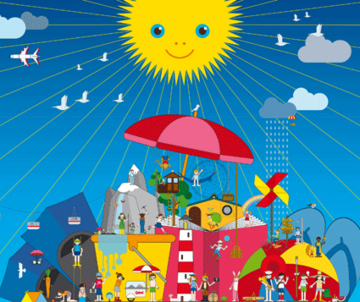 ---
All dates
• Days with event
01 tue
02 wed
03 thu
04 fri
05 sat
---
06 sun
07 mo
08 tue
09 wed
---
10 thu
---
11 fri
12 sat
13 sun
14 mo
15 tue
---
16 wed
17 thu
18 fri
---
19 sat
20 sun
---
21 mo
22 tue
---
---
---
The Long Vacation
A hands-on exhibition for children ages 6 to 12

Date: until Aug 28
Venue: ZOOM Kindermuseum
Free admission

\r\n

Vacation means sleeping in late, looking for adventure, having fun, and no school. But we also learn a lot when we\'re on vacation. Why is the sea salty? What is a wetland? How do stones and seashells feel under our feet? What grows, crawls, and hums on a meadow? How do you crochet using the fingers?

\r\n

At the exhibition, children can use all their senses to discover familiar vacation spots like a tree house, a meadow, the sea, an ice cream parlor, a mountain, and a camping site, and can make folded flowers, can ascend the climbing wall, meet the fastest snail in the world at the Dune Rally, or enjoy an ice cream in the meantime.

\r\n

When it rains, good ideas and exciting books can drive away the boredom.When we go on camping trips, we also need good ideas to make things cozy in the tent. If ou want to know why vacations were invented at all, slip into a costume, and let yourself be taken back one hundred years to discover children lived back then.


www.kindermuseum.athttp://"http://www.kindermuseum.at"
Back to main navigation