14.10.2010 to 31.01.2011

Platz da!
ARCHITEKTUR
---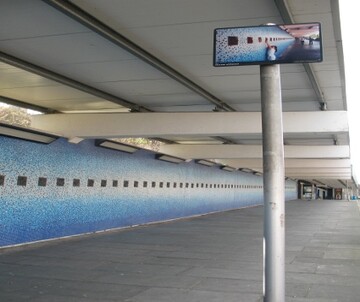 ---
All dates
• Days with event
01 fri
02 sat
03 sun
04 mo
05 tue
---
06 wed
07 thu
08 fri
09 sat
---
10 sun
---
11 mo
12 tue
13 wed
---
---
---
---
---
---
Platz da!
European Urban Public Space
Ort: Architekturzentrum Wien - Alte Halle
Datum: 14.10. bis 31. 01.
Öffnungszeiten: täglich 10:00 - 19:00 h
Eröffnung: Mi, 13.10., 19h
Tickets: EUR 7.- / EUR 4,50.- ermäßigt
Zur Eröffnung sprechen:
Dietmar Steiner, Direktor Az W, Begrüßung
Rudolf Schicker, Stadtrat für Stadtentwicklung und Verkehr
Judit Carrera, CCCB Centre de Cultura Contemporània de Barcelona
Andrea Seidling, Kuratorin der Ausstellung
Anlässlich des 10. Jubiläums des "European Urban Public Space Awards" versucht das Architekturzentrum Wien eine Annäherung an das viel behandelte und teils überstrapazierte Thema Öffentlicher Raum.
Zahlreiche Fragen, von "Was meint Öffentlicher Raum?", "Wie entstand er und gibt es ihn überhaupt noch?", "Wem gehört er, was repräsentiert er und wer entscheidet über Gut und Schlecht von Öffentlichen Räumen?", "Wer braucht ihn und wer darf ihn benutzen?", "Geht es noch um Privat versus Öffentlich oder vielmehr um Ausgrenzung versus Eingrenzung?" bis schließlich "Inwieweit beeinflussen gebaute Strukturen und gesellschaftlichen Verhältnisse die Verhandlungsmöglichkeiten?" werden in der Ausstellung aufgeworfen und damit die Bandbreite der Diskussionsebenen dargestellt.
Darüber hinaus werden international ausgezeichnete Projekte Wiener Realitäten gegenübergestellt, aktuelle künstlerische, aktionistische und architektonische Positionen, theoretische Analysen zur Stadtentwicklung und Darstellungen zu Produktion und Verhandelbarkeit von Öffentlichen Räumen präsentiert.
Eine Kooperation mit dem CCCB Barcelona
Subventionsgeber des Az W:
Geschäftsgruppe Stadtentwicklung und Verkehr
Bundesministerium für Unterricht, Kunst und Kultur
Geschäftsgruppe Kultur und Wissenschaft
Förderer des Az W: ARCHITECTURE LOUNGE
copyright:
© Strange Cargo Arts
Back to main navigation