09.06.2010 to 09.06.2010

Nathan Boyer (USA): LIFE IS HARD WHEN YOU'RE DEAD
FILM & DIGITAL CULTURE
---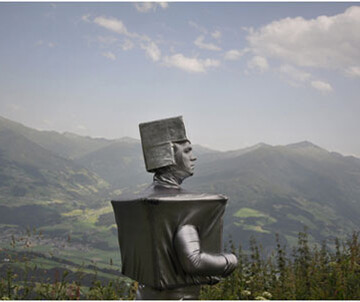 ---
All dates
• Days with event
01 tue
02 wed
03 thu
04 fri
05 sat
---
06 sun
07 mo
08 tue
---
10 thu
---
11 fri
12 sat
13 sun
14 mo
15 tue
---
16 wed
17 thu
18 fri
---
19 sat
20 sun
---
21 mo
22 tue
23 wed
24 thu
25 fri
---
26 sat
27 sun
---
28 mo
29 tue
30 wed
---
Nathan Boyer (USA): LIFE IS HARD WHEN YOU'RE DEAD

Datum: Mi 09.06., 18h
Ort: Raum D / quartier21

Artist-in-Residence Nathan Boyer premieres rough cuts from "Faust in Space," a hip-hop, science-fiction video opera he started filming in Vienna as an artist-in-residence sponsored by the Fulbright Commission and the Museums Quartier/quartier 21. Boyer also will screen other projects including a meta-mystery show and a kung-fu inspired artist's manifesto.

Both humorous and philosophical, Boyer's work draws on cinematic, Internet and art-historical references to explore how people use cultural cliches to create personae. With a particular emphasis on science fiction, Boyer creates and performs characters ranging from the alien hip-hop star "Dr. Skullface" to a lonely robot on an Alpine quest. His themes range from the quest for human connection in the Internet age to the poignancy of our failed efforts to comprehend time and the future.
(c) Nathan Boyer
Back to main navigation