16.01.2010 to 17.01.2010

Wie hoch ist oben?
DANCE/PERFORMANCE/MUSIC, CHILDREN & FAMILY
---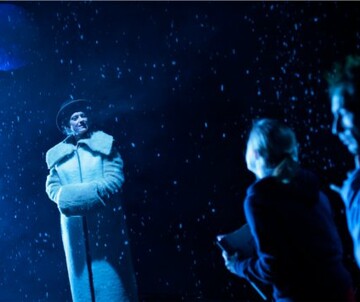 ---
All dates
• Days with event
01 fri
02 sat
03 sun
04 mo
05 tue
---
06 wed
07 thu
08 fri
09 sat
---
10 sun
---
11 mo
12 tue
13 wed
14 thu
15 fri
---
18 mo
---
19 tue
20 wed
---
21 thu
22 fri
23 sat
24 sun
25 mo
---
26 tue
27 wed
---
28 thu
29 fri
30 sat
---
31 sun
Theater des Kindes - Wie hoch ist oben?
Wienpremiere
Schauspiel

Datum:
Sa 16.01., 18h
So 17.01., 16.30h
Dauer: 45 min, ab 6 Jahren
Ort: DSCHUNGEL WIEN, Saal 1
Regie: Hakon Hirzenberger
Es ist Herbst und ein junges Mädchen namens Sternchen sammelt Saatkörner für den Frühling. Ba Gia ist ihre Großmutter und weiß, dass sie bald für immer fortgehen muss. Sie versucht Sternchen zu erklären, dass die Menschen anders sind als die Natur im Garten, die jeden Frühling zu neuem Leben erwacht. Aber Sternchen will das nicht hören und läuft weg. Gemeinsam mit dem Vogel ohne Flügel macht sie sich auf die Suche nach einer Zauberin, die den Lauf der Welt anhalten kann. Sie fragen die Zauberin des wilden Windes, die Zauberin des rauschenden Regens und die Zauberin des stillen Schnees, aber auch diese mächtigen Wesen können die Zeit nicht anhalten. Niemand kann den Kreislauf von Leben und Tod durchbrechen. Alles muss weitergehen, sich verändern, und damit es wieder Frühling werden kann, muss vorher der Winter kommen. Ein einfühlsames, poetisches und humorvolles Märchen über die Unausweichlichkeit des Todes!
In Kooperation mit der Kulturabteilung der AK Oberösterreich.
copyright:
© Theater des Kindes
Back to main navigation