28.08.2009 to 20.09.2009

AiR base Nr. 17: Leung Chi Wo - Depot of Disappearance
---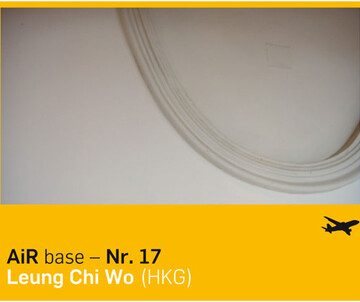 ---
All dates
• Days with event
01 sat
02 sun
03 mo
04 tue
05 wed
---
06 thu
07 fri
08 sat
09 sun
---
10 mo
---
11 tue
12 wed
13 thu
14 fri
15 sat
---
16 sun
17 mo
18 tue
---
19 wed
20 thu
---
21 fri
22 sat
23 sun
24 mo
25 tue
---
26 wed
27 thu
---
---
---
---
---
---
---
---
21 mo
22 tue
23 wed
24 thu
25 fri
---
26 sat
27 sun
---
28 mo
29 tue
30 wed
---
Der bildende Künstler Leung Chi Wo (geb. 1968 in Hongkong) schloss 1997 sein Studium an der Chinese University of Hong Kong mit einem Master of Fine Arts ab. Im gleichen Jahr erhielt er ein Stipendium vom Asian Cultural Council und 1999 nahm er am New Yorker International Studio & Curatorial Program teil.
Seine Werke reichen von Fotografie und Performance bis hin zu textbasierten Arbeiten, Videos und Installationen, in denen er sich immer wieder mit der Diskrepanz zwischen Wahrnehmung und Verständnis in meist kulturellen/politischen Kontexten im städtischen Umfeld befasst. Sie waren international auf den Biennalen in Venedig und Shanghai sowie u.a. im Queens Museum of Art in New York und im Museu da Imagem e do Som in São Paulo zu sehen.
Depot of Disappearance ist eine textbasierte Installation, die sich mit Erinnerung, Raum und Kulturpolitik auseinandersetzt. In ihrem Mittelpunkt steht das autonome Kunstforum Depot, das von 1994 bis 2001 auf dem Areal des MuseumsQuartiers untergebracht war. Erinnerungs-, Wissens- bzw. Unwissenheitssplitter verschiedener Menschen aus dieser Ära, ob sie nun übereinstimmend oder widersprüchlich sind, stehen als Metapher für die eigenständige kulturelle Entwicklung in Zeiten gesellschaftspolitischer Veränderungen. Sich die jüngste Vergangenheit ins Gedächtnis zu rufen beseitigt weder die Furcht vor dem Verschwinden noch lässt es Nostalgie aufkommen, sondern vergegenwärtigt vielmehr das Verschwinden an sich. Das Depot besteht weiter - hinter dem heutigen MuseumsQuartier.

Depot of Disappearance ist die 17. Installation eines Artist-in-Residence des quartier21 seit der Eröffnung der Ausstellungs- und Eventplattform AiR base. Leung Chi Wo wurde in Kooperation mit springerin/quartier21 eingeladen.
Back to main navigation