03.07.2009 to 06.08.2009

DesignerInnen des Monats: House of Boing (GBR)
---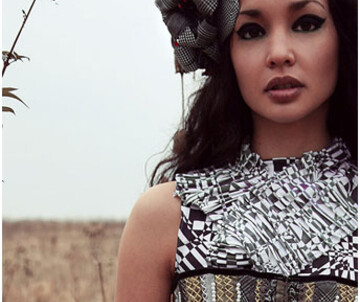 ---
All dates
• Days with event
---
07 fri
08 sat
09 sun
---
10 mo
---
11 tue
12 wed
13 thu
14 fri
15 sat
---
16 sun
17 mo
18 tue
---
19 wed
20 thu
---
21 fri
22 sat
23 sun
24 mo
25 tue
---
26 wed
27 thu
---
28 fri
29 sat
30 sun
---
31 mo
House of Boing

Seit 2000 experimentiert das Londoner Label House of Boing mit innovativen skultpurellen Silhouetten und Schnitten fuer ihre Kleider. Als Einfluesse finden sich nicht nur Zitate aus sich selbst-bewegenden kinetischen Skulpturen sondern auch Urban Art, naive Kinderzeichnungen bis zu Ballett-tutus.
Sie kreieren in kompletter Handarbeit Einzelstuecke, die kuenstlerischer Ausdruck der Idee sind,dass Kleidung Freiheit, Neugier und Auffregung vermitteln soll und so das taegliche Leben bunt eingefaerbt und intensiviert wird.
Dieses Jahr werden diese Ideen zum ersten Mal auch in Huete uebersetzt.
Die bewegten Gedanken von Op(tical) Art werden aufgenommen und in lebhafte Drucke uebersetzt, die nun auch Accessoires schmuecken.

www.houseofboing.com und www.sandrabamminger.com

quartier21/Museumsquartier, Eingang Burggasse, Museumsplatz1
1070 Wien,
Di-Sa 12-19h,
info@combinat.at
Back to main navigation