28.02.2009 to 03.05.2009

Yngve Holen
FILM & DIGITAL CULTURE
---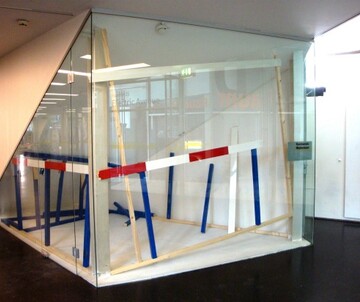 ---
All dates
• Days with event
01 sun
02 mo
03 tue
04 wed
05 thu
---
06 fri
07 sat
08 sun
09 mo
---
10 tue
---
11 wed
12 thu
13 fri
14 sat
15 sun
---
16 mo
17 tue
18 wed
---
19 thu
20 fri
---
21 sat
22 sun
23 mo
24 tue
25 wed
---
26 thu
27 fri
---
04 mo
05 tue
---
06 wed
07 thu
08 fri
09 sat
---
10 sun
---
11 mo
12 tue
13 wed
14 thu
15 fri
---
16 sat
17 sun
18 mo
---
19 tue
20 wed
---
21 thu
22 fri
23 sat
24 sun
25 mo
---
26 tue
27 wed
---
28 thu
29 fri
30 sat
---
31 sun
Eröffnung: 27.02.2009, 19h
Dauer: 28.02. – 3.5.2009, täglich 10 – 19h
Ort: Koje Medienturm, quartier21/MQ Wien
Museumsplatz 1, 1070 Wien
Informationen: www.medienturm.at, +43 (0)316 74 00 84



Derzeit ist Yngve Holen (*1982, Stavanger, Norwegen, lebt in Frankfurt am Main) Artist-in-Residence im quartier21/MQ Wien, wobei der Grazer Kunstverein Medienturm die vorschlagende Institution ist. In der Koje Medienturm zeigt Yngve Holen einige neue Arbeiten, mehrere Zeichnungen hinter Glas, die zumeist am Computer entworfen sind.
Neben seiner Präsentation möchte der Künstler auf eine Auswahl einiger Bücher, Websites, Geschichten und CDs hinweisen, auf die er im Rahmen seines Aufenthalts gestoßen ist, und nun weiterempfehlen möchte:
Susan Sontag – Reborn Journals & Notebooks 1947-1963
www.wimmer-time.com

CDs:
The Bubonic Plague, Fan Death and geneva jacuzzi
The New Kanye West Album
Master P - Good Side/Bad Side: Good Side
http://www.filmmuseum.at/jart/prj3/filmmuseum/main.jart?rel=de&content-id=1218866065977&reserve-mode=active

Poems:
mp3´s
Britney Spears: 07 Unusual You.mp3
DEMARCO–SHE CAH WAIT.mp3
Books:
- "Corporate Rokoko", Werner von Delmont aka Stephen Dillemuth, I am sure this one is for you. It is a little blue book that tells the story, in 2020, of the evolution of art and its integration to business politics; institutional critique meets SciFi. A little blue book that only costs 15€.
- I would have like you to know about some novels from the MIT that we have here; would you be interested in this one?
--
Bildtitel: Yngve Holen, 2009.
Back to main navigation