01.03.2008 to 24.03.2008

Nichts is Heilig!
ART
---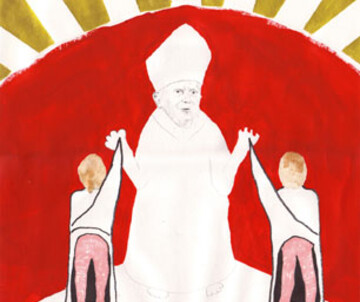 ---
All dates
• Days with event
---
---
---
---
---
---
25 tue
---
26 wed
27 thu
---
28 fri
29 sat
30 sun
---
31 mo
Gruppenausstellung von Surrend, Titanic, Rudi Klein und Caricatura
Ort: Freiraum/quartier21, MQ Wien
1.3. bis 24.3., geöffnet täglich von 10 bis 20 Uhr

"Nichts ist heilig" gibt einen Einblick in das satirische Herz der europäischen "Mittelmächte" Dänemark, Deutschland und Österreich. Die Ausstellung vereint mit den Dänen von Surrend, dem Österreicher Rudi Klein und dem deutschen Satiremagazin Titanic führende Kräfte der internationalen Satireszene. Ergänzt wird die Ausstellung mit einer von der Caricatura zusammengestellten Auswahl von Cartoons und komischen Gemälden von den Künstlern Rudi Hurzlmeier, Ernst Kahl und Greser&Lenz. Alle drei vorgestellten Herangehensweisen an das Thema Satire stützen sich auf eine grundlegende Haltung zu gesellschaftlichen und politischen Fragen. Es geht darum, etwas verändern zu wollen, besser zu gestalten, aufmerksam zu machen oder einfach nur darum, den gesellschaftlichen Wahnsinn, der einen umgibt für sich selbst erträglich zu machen – und vor allem: Spaß daran zu haben.
Back to main navigation