09.11.2006 to 09.11.2006

Dan, Martha, Trisha, Frans & Robert
DANCE/PERFORMANCE/MUSIC
---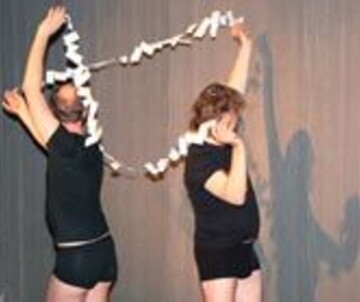 ---
All dates
• Days with event
01 wed
02 thu
03 fri
04 sat
05 sun
---
06 mo
07 tue
08 wed
---
10 fri
---
11 sat
12 sun
13 mo
14 tue
15 wed
---
16 thu
17 fri
18 sat
---
19 sun
20 mo
---
21 tue
22 wed
23 thu
24 fri
25 sat
---
26 sun
27 mo
---
28 tue
29 wed
30 thu
---
FRANS POELSTRA (NL/A) / ROBERT STEIJN (NL)

Konzept und Performance: Frans Poelstra und Robert Steijn
Musik: Martin Siewert
Frans und Robert begeben sich in ihrer Performance auf die Spuren von Martha Graham und Trisha Brown. Sie kombinieren die Glaubenssätze der beiden Tanzpionierinnen mit dem konzeptuellen Denkansatz des bildenden Künstlers Dan Graham, dem "master of mirroring and reflecting". Ihre zentralen Fragen lauten: Wer schaut wem zu? Wann wird Performance zu Theater?

___________________________________________________

Produktion: Tanzquartier Wien

wieder und wider: performance appropriated
Performative Aneignung in Tanz und bildender Kunst
Eine Kooperation von MUMOK und Tanzquartier Wien, Mi 08. Nov. – Sa 18. Nov.
Back to main navigation