30.09.2005 to 30.01.2006

Vermittlungsprogamm zu der Ausstellung IMPRESSIONISTEN aus dem Pariser Musée d'Orsay für Schulen
ART
---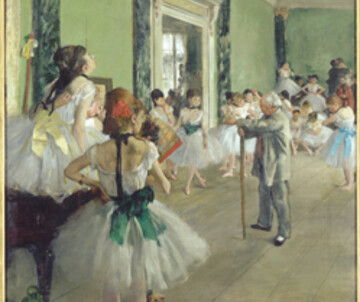 ---
All dates
• Days with event
01 thu
02 fri
03 sat
04 sun
05 mo
---
06 tue
07 wed
08 thu
09 fri
---
10 sat
---
11 sun
12 mo
13 tue
14 wed
15 thu
---
16 fri
17 sat
18 sun
---
19 mo
20 tue
---
21 wed
22 thu
23 fri
24 sat
25 sun
---
26 mo
27 tue
---
28 wed
29 thu
---
"Impressionisten aus dem Pariser Musée d´Orsay" Nur gegen Voranmeldung
Kontakt: Isabella Drozda
Tel. +43/1/525 70 –1525

vermittlung@leopoldmuseum.org

Dauer der Programme jeweils 90 min
Kosten: pro Schüler Euro 5,--

Muss man das überhaupt malen?
für Jugendliche von 15-18 JahrenWarum setzten die französischen Künstler gerade Motive aus dem Alltag um? Wo endet der Realismus und wo beginnt der Impressionismus? Wir beschäftigen uns zunächst vor den Gemälden mit diesen Fragen, dann gibt es im Atelier Gelegenheit, eigene Eindrücke zu Papier zu bringen.

Mehr Licht!
für Jugendliche von 10-14 Jahren
Wir suchen in den Bildern die persönlichen Handschriften der Künstler und fragen uns, wie sie das Licht einfangen konnten. Gelingt es uns auch, dann dem Rätsel der Malerei der Impressionisten im Atelier selbst auf die Spur zu kommen?

Vincent und Paul - (Eine) Reise durch Frankreich
für Kinder von 6-10 Jahren
Eine "Tour de France", wie im gleichnamigen
Asterix – HeftUnsere Reisegefährten heißen Vincent und Paul, zwei fahrende Künstler, die uns mit Pinsel und Farbe im Gepäck zu den Orten und Motiven der großen französischen
Impressionisten begleiten und uns beim Bildermachen im Atelier helfen!

English Impressions
For ages 16-19
Monet´s Houses of Parliament, van Gogh´s star-studded nights and Degas´spoised ballerinas. We embark on a visual journey through these famous images and discuss our own impressions of the Impressionists in English.This programme is devised to build on students´ English vocabulary in conjunction with Unit 4 in Make Your Way with English 7. Vocabulary list provided.
Back to main navigation