29.11.2018 to 26.03.2019 - Sternenpassage
Host: Q21
ELFIE SEMOTAN - "stars passage" - Micro museum for light phenomena
FREE ENTRY, ART
---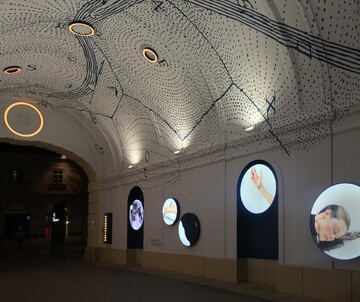 ---
All dates
• Days with event
01 thu
02 fri
03 sat
04 sun
05 mo
---
06 tue
07 wed
08 thu
09 fri
---
10 sat
---
11 sun
12 mo
13 tue
14 wed
15 thu
---
16 fri
17 sat
18 sun
---
19 mo
20 tue
---
21 wed
22 thu
23 fri
24 sat
25 sun
---
26 mo
27 tue
---
28 wed
---
---
---
---
---
---
---
---
27 wed
---
28 thu
29 fri
30 sat
---
31 sun
ELFIE SEMOTAN - "stars passage" - Micro museum for light phenomena
Sternenpassage ("stars passage") is one of MQ Wien's eight micro museums scattered across the museum complex. Each of these publicly accessible passages is dedicated to one specific art form, including sound art, street art, comic art, typography, photography, and more. Together, they contrast with and complement the surrounding larger museums.
MuseumsQuartier's barrel vaults date back to the Baroque period; fittingly, Sternenpassage's fresco is based on a diagram of the same era. It offers a glimpse of space as imagined by French philosopher René Descartes (1596-1650): depicted is a comet's elliptical path across the heavens, held in place by particles of matter which Descartes believed made up the universe.
In its capacity as a micro museum, Sternenpassage highlights artists whose work broadly relates to photography. Artists are commissioned to create pieces specially for the passage. Each resulting series is presented across four illuminated circular display cases mounted on the walls, and accompanied by astrophotography.
Lumen Zine is a miniature catalogue supplementing exhibitions at Sternenpassage. It contextualises the art on display and is available from the on-site vending machine for 2 Euro.
Sternenpassage | Q21/MQ | located between courtyards 1+2 | open 24/7 |
Back to main navigation