Warren Neidich
area: Conceptual Art, Writer
Key Facts
area
Conceptual Art, Writer
recommending institution
freiraum quartier21 INTERNATIONAL
time period
May 2014 - June 2014
Warren Neidich is a Berlin and Los Angeles based post-conceptual artist and theorist who explores the interfaces between cultural production, brain research and cognitive capitalism. "Art Before Philosophy not After". His interdisciplinary works combines photographic, video, internet downloads, scotch tape and noise installations.

Selected Awards and Fellowships include: The Fulbright Specialist Program, Fine Arts Category, University of Cairo, 2013; The Murray and Vickie Pepper Distinguished Visiting Artist and Scholar Award, Pitzer College, 2012; The Fulbright Specialist Program Fellowship, Fine Arts Category, Faculty of Fine Arts – University Ss. Cyril and Methodius in Skopje, Macedonia, 2011; First Award for Interdisciplinarity, AKTO Festival For Contemorary Art, Bitola, Macedonia, 2011; The Vilem Flusser Theory Award, Transmediale, Berlin, 2010

Selected international exhibitions include: Red Cat Theater ,2014 Otis College of Art Ben Maltz Gallery,2014 Townhouse Gallery, Cairo, 2013*, Fons Welters Gallery Amsterdam 2011*; MAK Center, Vienna, 2011, MUSAC, Leon, Spain, 2010, Kunsthaus Zurich, 2006; NBGK, Berlin, 2006; Kunsthaus Graz, 2006; Los Angeles County Museum, 2006;Astrup Fearnley Museum of Modern Art, Oslo, 2004; Studio Museum of Harlem, 2003; California Museum of Photography, Riverside, 2002*; Edward Mitterand Gallery, 2002*; Storefront for Art and Architecture, 2002*; The Laguna Art Musuem, Laguna Beach, 2001*; The Whitney Museum of American Art, 2001; Artists Space, 2001, Institute of Contemporary Art, Philadelphia, 1995; Villa Arson,Nice,France, 1994;P.S.1, MOMA, Long Island City, 1991;The Museum of Contemporary Art, Chicago, 1989; The Walker Art Center, 1989; Aperture Foundation, New York City, 1989; Queens Museum of Art 1988; White Columns, 1988; Museum Ludwig, Koln, 1988.

His work has been featured and reviewed in Artforum, Art in America, The New York Times, The Los Angeles Times, Teme Celeste, Time Out, New York, Flash ARt Kunstforum International just to name a few.

Dr. Neidich is the author of Blow-up: Photography, Cinema and the Brain, DAP, Cognitive Architecture: From Biopolitics to Noo politics, 010 Publishers, The Psychopathologies of Cognitive Capitalism, Part 1. His Resistance is Fertile is forthcoming in 2014 published by Merve Verlag, Berlin.

In 2013 he was visiting artists at the following institutions: The GSD, Harvard University, Princeton University School of Architecture, The Dusseldorf Academy, Konstfach, Stockholm, The Jan Van Eyck Academy, The Royal Academy of Art, Den Haag, University of California, San Diego, California Institute of Technology, University of Washington just to name a few.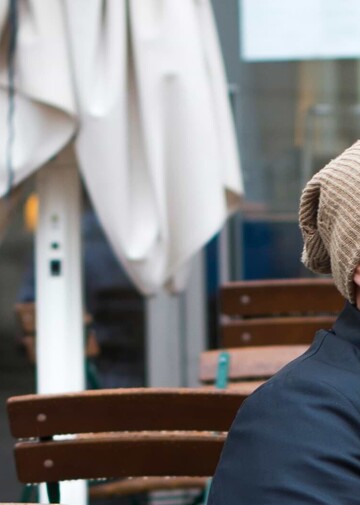 Warren Neidich: Breaking the Noise Barrier
Artist-in-Residence Warren Neidich talks about his works and project for the upcoming exhibition "Connecting Sound Etc."
read more
Back to main navigation