17.08.2018 to 17.08.2018 - MQ Main Courtyard

frame[o]ut 2018: SURPRISE SHORT-FILM & SKATE KITCHEN
FREE ENTRY, LEISURE & OUTDOOR, FILM & DIGITAL CULTURE
---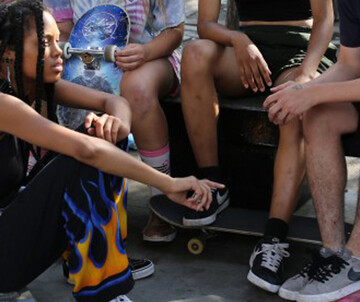 ---
All dates
• Days with event
01 wed
02 thu
03 fri
04 sat
05 sun
---
06 mo
07 tue
08 wed
09 thu
---
10 fri
---
11 sat
12 sun
13 mo
14 tue
15 wed
---
16 thu
18 sat
---
19 sun
20 mo
---
21 tue
22 wed
23 thu
24 fri
25 sat
---
26 sun
27 mo
---
28 tue
29 wed
30 thu
---
31 fri
frame[o]ut: Surprise Short-Film Screening & Skate Kitchen

MQ Main Courtyard, free admission! (in bad weather: Arena21)
Summer is here and the frame[o]ut Open Air Cinema plays on 16 evenings from July to September at the main court and yard 8 in the MuseumsQuartier Vienna. In the 11th edition, frame[o]ut screen open air and at nightfall local and international cinema on each Friday and Saturday with current topics, exciting stories and surprising styles - free admission and mosquito-free.
21h
SURPRISE SHORT-FILM SCREENING:
TROUBLE FEATURES | HOLIDAY SPECIAL mit DISKOLLEKTIV

21.20h
SKATE KITCHEN, USA 2018, 106min, fiction feature, director: Crystal Moselle
With Rachelle Vinberg, Jaden Smith, Jules Lorenzo, Brenn Lorenzo, Nina Moran, Kabrina Adams, Ardelia Lovelace and Ajani Russell
Camille lives on Long Island. A lonely teenager, she hangs out at a small skate park until, against the wishes of her single mother, she joins Skate Kitchen and cruises the concrete jungle of New York City with this eccentric girl gang from Manhattan. Camille makes new friends and finds out that growing up can also mean new freedom. Crystal Moselle's touching debut fiction feature is based on the Instagram feed of the real-life Skate Kitchen. In light-drenched images and constant movement she effortlessly portrays the fluid self-determination of the protagonists and their freedom, their solidarity and the meaning of friendship in a coming-of-age film.
www.frameout.at
In cooperation with MuseumsQuartier Wien
Back to main navigation