03.08.2018 to 03.08.2018 - MQ Main Courtyard

frame[o]ut 2018: SURPRISE SHORT-FILM & L'HOMME DE RIO
FREE ENTRY, LEISURE & OUTDOOR, FILM & DIGITAL CULTURE
---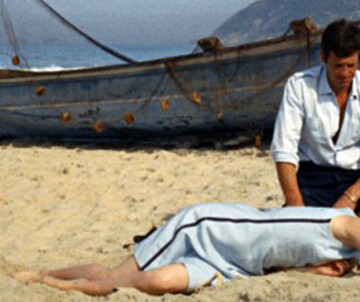 ---
All dates
• Days with event
01 wed
02 thu
04 sat
05 sun
---
06 mo
07 tue
08 wed
09 thu
---
10 fri
---
11 sat
12 sun
13 mo
14 tue
15 wed
---
16 thu
17 fri
18 sat
---
19 sun
20 mo
---
21 tue
22 wed
23 thu
24 fri
25 sat
---
26 sun
27 mo
---
28 tue
29 wed
30 thu
---
31 fri
frame[o]ut: Surprise Short-Film Screening & L'Homme de Rio

MQ Main Courtyard, free admission! (in bad weather: Arena 21)
Summer is here and the frame[o]ut Open Air Cinema plays on 16 evenings from July to September at the main court and yard 8 in the MuseumsQuarter Vienna. In the 11th edition, frame[o]ut screen open air and at nightfall local and international cinema on each Friday and Saturday with current topics, exciting stories and surprising styles - free admission and mosquito-free.
21h
SURPRISE SHORT-FILM SCREENING
TROUBLE FEATURES | HOLIDAY SPECIAL with DISKOLLEKTIV

21.20h
L'HOMME DE RIO, FR/IT 1964, 110min, fiction feature, director: Philippe de Broca, original version w/ German subtitles
With Jean-Paul Belmondo, Françoise Dorléac, Jean Servais, et al.
While on leave in Paris the young soldier Adrien witnesses the kidnapping of his fiancée Agnès, the daughter of a renowned ethnologist. As a stowaway on a plane he follows her to Rio de Janeiro, and that's where the chase really gets under way. Adrien rescues his eccentric fiancée, but the bad guys kidnap her a second time, and Adrien rescues her once again. In Brasília some stolen figurines are recovered, and there's a fast-paced confrontation of good versus evil. All this makes for an adventure film full of light summer entertainment with irresistible sixties flair.
www.frameout.at
In cooperation with MuseumsQuartier Wien
Back to main navigation