27.07.2018 to 27.07.2018 - MQ Main Courtyard

frame[o]ut 2018: BEYOND
FREE ENTRY, LEISURE & OUTDOOR, FILM & DIGITAL CULTURE
---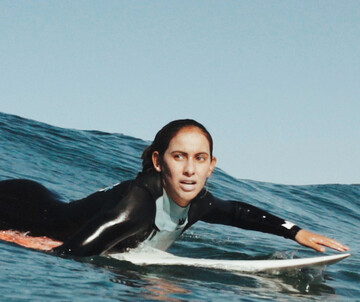 ---
All dates
• Days with event
01 sun
02 mo
03 tue
04 wed
05 thu
---
06 fri
07 sat
08 sun
09 mo
---
10 tue
---
11 wed
12 thu
13 fri
14 sat
15 sun
---
16 mo
17 tue
18 wed
---
19 thu
20 fri
---
21 sat
22 sun
23 mo
24 tue
25 wed
---
26 thu
---
28 sat
29 sun
30 mo
---
31 tue
frame[o]ut: Beyond - An African Surf Documentary

MQ Main Courtyard, free admission! (in bad weather: Arena21)
Summer is here and the frame[o]ut Open Air Cinema plays on 16 evenings from July to September at the main court and yard 8 in the MuseumsQuarter Vienna. In the 11th edition, frame[o]ut screen open air and at nightfall local and international cinema on each Friday and Saturday with current topics, exciting stories and surprising styles - free admission and mosquito-free.
BEYOND – AN AFRICAN SURF DOCUMENTARY, AUT 2017, 111min, documentary, director: Mario Hainzl, original version w/ German subtitles
With Jocick Pitol, Alfred René Noser, Sam Bleakley, Papa Magatte Diagne, Armando Lambra, Joseph Dieatta, et al.
BEYOND takes us along the coast of Western Africa, from Morocco and the Western Sahara to Mauritania, then to Senegal, Gambia and the border of Guinea Bissau. The film tells the viewer at eye level about the life plans, realities and dreams of its protagonists. Glittering waves, popular surfing spots, untouched beaches in restricted military zones and Senegal's Sine-Saloum region, filled with mangroves, are its magical locations. Surfing and board culture fuse with the local youth's forms of expression. Surfing and travel serve to link the protagonists and their stories with the audience through the screen.
www.frameout.at
In cooperation with MuseumsQuartier Wien
Back to main navigation