14.07.2018 to 14.07.2018 - Hexenkessel

frame[o]ut 2018: AUSTRIAN AMERICAN SHORT FILM FESTIVAL
FREE ENTRY, LEISURE & OUTDOOR, FILM & DIGITAL CULTURE
---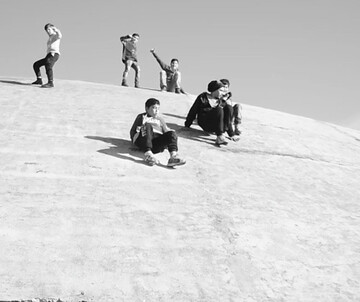 ---
All dates
• Days with event
01 sun
02 mo
03 tue
04 wed
05 thu
---
06 fri
07 sat
08 sun
09 mo
---
10 tue
---
11 wed
12 thu
13 fri
15 sun
---
16 mo
17 tue
18 wed
---
19 thu
20 fri
---
21 sat
22 sun
23 mo
24 tue
25 wed
---
26 thu
27 fri
---
28 sat
29 sun
30 mo
---
31 tue
frame[o]ut: AUSTRIAN AMERICAN SHORT FILM FESTIVAL

Hof 8 (Boule Bahn), free admission! (in bad weather: Arena21)
Summer is here and the frame[o]ut Open Air Cinema plays on 16 evenings from July to September at the main court and yard 8 in the MuseumsQuarter Vienna. In the 11th edition, frame[o]ut screen open air and at nightfall local and international cinema on each Friday and Saturday with current topics, exciting stories and surprising styles - free admission and mosquito-free.
Program of short films from Austria and the USA, approx. 75min

FUCKING DRAMA, AUT 2017, 17min, director: Michael Podogil
(University of Music and the Performing Arts, Vienna / Film Academy)
A young couple spontaneously decides to see a play that will be put on in a basement. At first the audience eagerly waits for it to start, and is then bored. The atmosphere changes abruptly when the play's writer shows up.
LETHE, FRA/GEO 2017, 16min director: Dea Kulumbegashvili
(Columbia University School of the Arts)
Lethe, the river of forgetfulness, is in the underworld in Greek mythology. A horseman passes through the village on its bank. Children play with secret desires while adults carouse. Love and violence are instinctive elements of love. A new version of Greek mythology.
TRIPOLI, LEBANON, AUT, 13min, director: Julia Schmidt
(University of Applied Arts Vienna)
War changes people. War makes us forget. With time we rediscover things. In Tripoli there's a dome that has been intended to serve as a theater since the civil war began in 1975. A forgotten place with a magical echo that's rediscovered through music and children.
VIVA COCO!, USA/CUB 2017, 11min, director: Rocío Olivares
(Columbia University, New York City)
The 2016 Chanel fashion show in Havana, Cuba: The design fantasy created by the fashion house is undermined and rearranged by the camera's gaze. As a result Cuba's recent history, as told by the fashion show, is retold in a new way.
BEATRIZ'S HOUSE, MEX 2017, 16min, director: Suzanne Andrews Correa
(Columbia University, New York City)
A difficult split-up turns Beatriz's life upside down. She seems to be losing everything that's important to her. Then she hires Isabel, a 39-year-old caregiver, to maintain the lifestyle she had always known.
Stephanie Falkeis (AASFF curator) and the filmmakers will also be present.
www.frameout.at
In cooperation with MuseumsQuartier Wien
Back to main navigation