16.05.2018 to 16.05.2018 - Architekturzentrum Wien

Club Architektur: Brutally Good?
FREE ENTRY, ARCHITEKTUR
---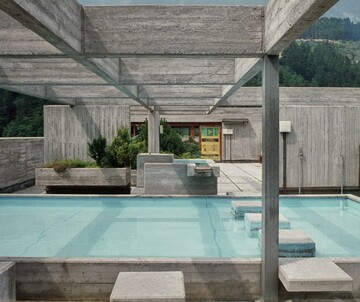 ---
All dates
• Days with event
01 tue
02 wed
03 thu
04 fri
05 sat
---
06 sun
07 mo
08 tue
09 wed
---
10 thu
---
11 fri
12 sat
13 sun
14 mo
15 tue
---
17 thu
18 fri
---
19 sat
20 sun
---
21 mo
22 tue
23 wed
24 thu
25 fri
---
26 sat
27 sun
---
28 mo
29 tue
30 wed
---
31 thu
The architecture talk show debates the true, the good and the beautiful in the rediscovered Brutalism.
Even the name is controversial: 'Brutalism', it has never sounded like particularly nuanced architecture. In fact, this architectural style was probably the most hated of all for decades. Although it was overlooked that it was Brutalism which frequently went hand-in-hand with public building projects for the benefit of the broader population: schools, universities, libraries, culture centres, sports facilities. The sculptural handling of concrete as a raw material signalled a rejection of modern industrial architecture in favour of individualism. For a number of years Brutalism has, on the one hand, been undergoing a late but all the more intense re-appraisal, on the other hand many exceptional buildings are threatened with demolition or have already disappeared. The exhibition 'SOS Brutalism' provides an opportunity for a controversial stock-take: Is concrete beautiful and, if so, then only to architects? Has Brutalism made the world a better place? Is its rediscovery long overdue or merely motivated by nostalgia?
Guests:
Gernot Hertl, architect
Tarek Leitner, journalist and author
Elsa Prochazka, architect;
Lisa Schmidt-Colinet, architect, academy of fine arts Vienna
Moderated by Maik Novotny, architecture journalist
Back to main navigation