09.11.2017 to 23.12.2017

Winter im MQ 2017
LEISURE & OUTDOOR
---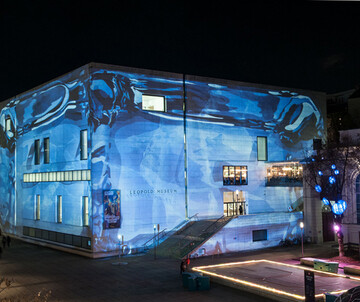 ---
All dates
• Days with event
01 wed
02 thu
03 fri
04 sat
05 sun
---
06 mo
07 tue
08 wed
---
---
---
---
---
---
---
---
---
---
---
---
---
---
24 sun
25 mo
---
26 tue
27 wed
---
28 thu
29 fri
30 sat
---
31 sun
Location: MQ Main Courtyard
Winter im MQ has so much to offer. Come along, bring your friends and enjoy the atmosphere of a winter salon in Vienna's finest living room.
Mon to Fri, 16:00–23:00
Sat, Sun & holidays, 14:00–23:00
HOT PUNCH AND OTHER TREATS


IT'S ALL NEW AT WINTER IM MQ – THE MQbis ARE HERE!
Winter im MQ has been given a dazzling new look this year. As a modern design feature, the MQbis once again demonstrate the harmonious combination of historical architecture and contemporary atmosphere. Their crystalline structure and illuminated surfaces form an exciting architectural meeting-place. The MQbis are lit by specially produced LED cubes. Each cube is controlled individually and the geometric pattern of the cubes on the ceiling gives visitors a remarkable experience of spatial depth. In combination with lighting in the trees, this creates a unique illuminated atmosphere in the MQ Main Courtyard. Art, culture and a love of hot punch come together in the MQbis by Biosk, Café Leopold, Café.Restaurant.
WINTER RACE AT MQ
Sat, Sun & holidays, 14:00–18:00
MOTOR RACING IN MINIATURE
Where water usually ripples in the basin, motor fans can now live out their dreams of speed with remote-controlled cars on the daring Winter Race track — fast curves, dangerous jumps and an opponent hot on your tail.
Car rental costs € 5 for 10 minutes. Or bring your own car and race for free.
The track can also be hired for exclusive use from Mon to Fri from <link>winterrace@mqw.at.
Try out the Winter Race for free on opening night!
Presented by Martin Markeli and MQ
MICRO EXTREME BOWLING
Nov 16 to Dec 21, every Thu, 16:00–20:00
THINK, ADJUST, AND BOWL
Extreme Bowling is an analogue, kinetic, hybrid game and is a combination of bowling, billiards and golf. Players don't aim directly at the pins but must use a ramp and find the right angle to knock them down around a corner — think, adjust and bowl.
WINTERLICHT - LIGHT SHOW
Daily 16:00–23:00
"Winterlicht" stands for the static and moving projections created by LICHTTAPETE that give the "Winter im MQ" program its visual feel. Integrating the architecture on site is an important part of the work. Every evening, changing large-scale projections on the Leopold Museum and on the internal and external facades of the MQ courtyards provide different settings for "Winter im MQ".
<link http: www.lichttapete.at>www.lichttapete.at
WINTER SOUNDS
Mon to Fri, 16:00–22:00
Sat, Sun and Holidays, 14:00–22:00
LIVE-DJs
every Thu and Fri, 16:00–22:00
Sat, Dec 23, 16:00–22:00


MQ HOFMUSIK WINTER EDITION
NAKED CAMEO
Thu, Nov 23, from 18:00h
The four Upper Austrians came to the MQ last autumn as part of the "Club Nolabel" event series—shortly afterwards, their label was born."NAKED CAMEO" combines simple pop songs with electronic elements.

Classical Concerts
Thu, Dec 6, from 18:00
In cooperation with the mdw music university, several groups from the "Institute for Wind and Percussion Instruments" have developed a special program for "Winter im MQ" and small ensembles will perform at different locations around the MQ.

WEIHNACHTSQUARTIER
1.000 m2 OF DESIGN
Fri, Dec 1, 14:00–20:00
Sat, Dec 2, 10:00–20:00
Sun, Dec 3, 10:00–19:00
MQ Ovalhalle, Arena21 and frei_raum Q21
Free admission
Design-lovers ahoy! Over the first weekend in December, the WeihnachtsQuartier showcases around 100 independent labels and young designers from Austria and abroad.
<link http: www.weihnachtsquartier.at>www.weihnachtsquartier.at
WINTER SHOPPING AT MQ POINT
Unusual gifts, design, fashion and much more
START YOUR WINTER SHOPPING AT THE MQ POINT
Deck the Halls! At MQ Point it's all about Christmas. From unusual Christmas decorations and humorous gift ideas to culinary delights—there's something for everyone.

GETTING YOUR PRESENT RIGHT!
Give 365 days of art and culture with an annual ticket for the Kunsthalle Wien, the Leopold Museum and the mumok for just € 79. Only available at the MQ Point. For the undecided, an MQ Point voucher means giving not just a museum visit, designer items, fashion and more, but giving a great deal of pleasure.
further information at <link http: www.mqpoint.at>www.mqpoint.at, daily, 10:00–19:00
EXHIBITIONS AND EVENTS

Q21
the creative space at MuseumsQuartier Wien
<link http: www.q21.at en frei-raum>STOPOVER – Ways of Temporary Exchange
thru Sat, Nov 25, Tue-Sun, 13:00–20:00
frei_raum Q21 exhibition space. Free admission
<link http: www.q21.at en program programmdetail q21-vienna-art-week-2017>Q21 @VIENNA ART WEEK 2017
Mon, Nov 13, to Sun, Nov 19
Free admission
Architekturzentrum Wien
<link https: www.mqw.at en program programmdetail the-terrassenhaus-a-viennese-fetish>The Terrassenhaus. A Viennese Fetish?
thru Jan 8, 2018
<link https: www.mqw.at programm programmdetail form-folgt-paragraph>Form Follows Rule
Nov 23 to Apr 4, 2018
Opening: Wed, Nov 22, 19:00
Kunsthalle Wien
<link https: www.mqw.at programm programmdetail publishing-as-an-artistic-toolbox-1989-2017>Publishing as an Artistic Toolbox: 1989–2017
Nov 8 to Jan 28, 2018
<link https: www.mqw.at en program programmdetail florian-hecker-1>Florian Hecker. Hallucination, Perspective, Synthes
Nov 17 to Jan 14, 2018
LEOPOLD MUSEUM
<link https: www.mqw.at en program programmdetail ferdinand-hodler-1>Ferdinand Hodler. Elective Affinities from Klimt to Schiele
thru Jan 22, 2018
<link https: www.mqw.at en program programmdetail spuren-der-zeit-1>Traces of Time
thru Feb 26, 2018
mumok
<link https: www.mqw.at en program programmdetail natural-histories>Natural Histories. Traces of the Political
thru Jan 14, 2018
<link https: www.mqw.at en program programmdetail art-into-life>Art into Life! Collector Wolfgang Hahn and the 60s
Nov 10 to Jun 24, 2018
Halle E+G
<link https: www.mqw.at en program programmdetail richard-obriens-rocky-horror-show>Richard O'Briens's Rocky Horror Show
Nov 28 to Dec 16, Halle E
Tickets: <link http: www.oeticket.com>www.oeticket.com

CHILDREN'S PROGRAM

Architekturzentrum Wien
ARCHIKIDS: Let's Knit a Roof
Sat, Nov 11, 15:00
ARCHIKIDS: Gingerbread Town
Sat, Dec 9, 15:00
DSCHUNGEL Wien
The Little Witch
Tue, Dec 5 to Sun, Jan 7
A Kangaroo Like You
Fri, Nov 3 to Sat, Nov 11
BrainGame
Mon, Nov 27 to Thu, Nov 30 & Mon, Dec 18 to Thu, Dec 21
Kunsthalle Wien
My Colorful F.A.N.tasy B.O.O.K
Books can also be works of art, as can be seen in the exhibition at the Kunsthalle Wien. The kids program (for ages 6 to 10) with WienXtra/Kinderaktiv takes place on Dec 2 and Dec 16 from 11:00–13:00.
mumok
Children's Action Day: Tours and workshop
Sun, Nov 12, 10:00-19:00
Workshop: Stories Off the Top of Your Head
Sat, Dec 2, 14:00–16:00
ZOOM
You and I, here and there
An exhibition dealing with forced displacement, arrival and living together for children aged 6 to 12
Sep 29 to Feb 25, 2018
ZOOM ANIMATED FILM STUDIO
Lab Club: Microbeats on Macrofilm
Workshops for children aged 8 to 14
Sep 29 to Feb 25, 2018

Photo: © Lichttapete
Back to main navigation