11.06.2017 to 11.06.2017 - mumok

Tag der offenen Tür 2017
ART
---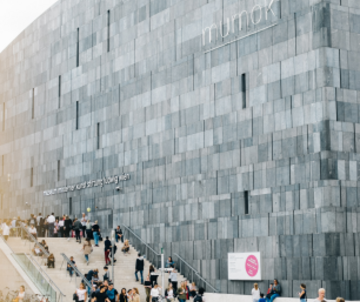 ---
All dates
• Days with event
01 thu
02 fri
03 sat
04 sun
05 mo
---
06 tue
07 wed
08 thu
09 fri
---
10 sat
---
12 mo
13 tue
14 wed
15 thu
---
16 fri
17 sat
18 sun
---
19 mo
20 tue
---
21 wed
22 thu
23 fri
24 sat
25 sun
---
26 mo
27 tue
---
28 wed
29 thu
30 fri
---
Tag der offenen Tür 2017
Ort: mumok
Freier Eintritt
Das mumok lädt von 10 bis 19h zum Tag der offenen Tür bei freiem Eintritt für alle BesucherInnen. Das umfangreiche Programm bietet Aktivitäten für Kunstinteressierte jeden Alters und reicht von Führungen über Angebote für Kinder und Familien bis zu Konzerten der MusikarbeiterInnenkapelle, einem Pop-up Store des Samstag-Shop und kostenloser Zuckerwatte. Im Rahmen von Sonderführungen erhalten die BesucherInnen neue Einblicke in die Ausstellungen WOMAN. FEMINISTISCHE AVANTGARDE DER 1970ER-JAHRE aus der SAMMLUNG VERBUND, Martin Beck. rumors and murmurs, watching sugar dissolve in a glass of water. Szenen aus der mumok Sammlung, Oh… Jakob Lena Knebl und die mumok Sammlung sowie Hannah Black. Small Room.
Kunstvermittlung Erwachsene
Führungen durch die Ausstellungen
Ab 11h zu jeder vollen Stunde
Führungen auf Englisch um 12h und 16h
Führung in österreichischer Gebärdensprache um 13h

Treffpunkt: Foyer
Insights – Das mumok stellt sich vor
11.30h (Facility), 12:30 (Marketing), 13:30 (Kunstvermittlung),
14.30h (Restaurierung), 15.30h (Ausstellungsproduktion)
Das mumok stellt sich vor: Welche Berufe gibt es im Museum und was muss alles getan werden, damit ein Museum funktioniert?
Zeichnerische Experimente
11 bis 17h, für Erwachsene
MusikarbeiterInnenkapelle
Konzert auf den Stiegen vor dem mumok
Pop-up Store: Samstag-Shop
Mit Kollektionen von Jakob Lena Knebl, House of the very Island's u.v.a.
Buchpräsentation mit Jakob Lena Knebl
Kunstvermittlung Kinder und Familien
Offenes Atelier für Kinder
Den ganzen Tag ist die mumok Lounge für alle Besucher_innen geöffnet. Hier wird an einer gemeinsamen Traumwelt gearbeitet – der Wunschlandschaft.
Du kannst ihn rollen, Materialien mitführen, auf ihm sitzen oder seinen Deckel als Unterlage beim Zeichnen benutzen. In seinem Inneren findest Du unterschiedlichste Materialien und Stifte, Papier sowie Vorschläge für die Erkundung des Museums – mit oder ohne Eltern.
Parallel findet im MQ Haupthof von 14 bis 17h das MQ Fest der Fantasie statt.


<link http: www.mumok.at>www.mumok.at
opening hours
| | |
| --- | --- |
| mo: | closed |
| tue-sun: | 10:00 – 18:00 |
---
Back to main navigation