08.06.2017 to 11.06.2017

MQ magicStories
LITERATURE & DISCOURSE, LEISURE & OUTDOOR
---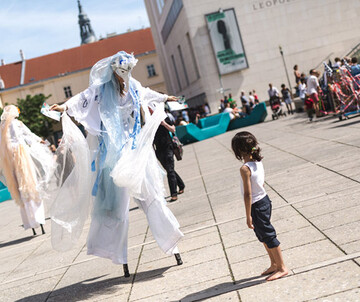 ---
All dates
• Days with event
01 thu
02 fri
03 sat
04 sun
05 mo
---
06 tue
07 wed
---
---
12 mo
13 tue
14 wed
15 thu
---
16 fri
17 sat
18 sun
---
19 mo
20 tue
---
21 wed
22 thu
23 fri
24 sat
25 sun
---
26 mo
27 tue
---
28 wed
29 thu
30 fri
---
location: MQ Main Courtyard (in wet weather: Arena 21), free admission
MQ magicStories - featuring storytellers from around the world
STORY MARATHON
Sat, Jun 10, 19:30 – 22:00
Discover the richness of storytelling with eleven amazing performers from seven countries – from classical storytelling to pantomime, black light theater, clowning, acrobatics, dance and music.
iBUCH: THE TALKING BOOKS
Sun, Jun 11, 12:00 – 14:00
The world's first interactive books are not just for listening to, but communicating with!
FESTIVAL OF IMAGINATION
Sun, Jun 11, 14:00 – 17:00
Experience this unique festival dedicated to the world of imagination – for all the family and everyone who loves to use their imagination!
Image © Nikolaus Pfusterschmid
program: www.wien-storytellingfestival.at


Back to main navigation