30.03.2017 to 01.04.2017 - Tanzquartier Wien

JEFTA VAN DINTHER / CULLBERG BALLET (NL/SE) - Protagonist
DANCE/PERFORMANCE/MUSIC
---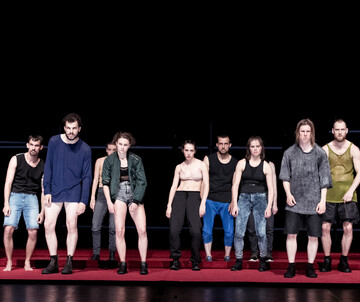 JEFTA VAN DINTHER / CULLBERG BALLET (NL/SE)
Protagonist
Austrian première
Protagonist is a contemplation on mankind. Songs of revolution and dances of evolution tell a tale of how people congregate, take on and are given roles. All the while instinct, resistance and compulsion become evidence of the battle each and every individual is fighting. Struggling to belong, in search for a common meaning or belief, a community takes shape. Protagonist is a parable about care, kinship and alliance as well as isolation, control and estrangement.
"Protagonist is a very personal story. It is about a calling out for change, a manoeuvering out of immobility. The performance takes us on a journey of struggling and trying, of dreaming and hoping, of being haunted by our histories and of being overly preoccupied with what is yet to come. But somewhere along the line the people on stage choose another path: they regress in an evolutionary sense, as an active choice in reconnecting with what is around us. As a conscious decision for being present" (Jefta van Dinther)
Jefta van Dinther's latest collaboration is a choreography for 14 dancers of the Cullberg Ballet. ELIAS, last year's breakthrough artist in Swedish pop music, provides recorded singing and voice-over, accompanied by sound design and music from David Kiers, set design by the artist duo SIMKA and lighting design by Minna Tiikkainen.
Protagonist is Jefta van Dinther's second creation for the Cullberg Ballet. His first, the successful production Plateau Effect, premiered in 2013 and went on to tour throughout Europe. Van Dinther received the Swedish theatre critics' dance award in 2013 for the production, which was also chosen to be performed at the Swedish Biennial for Performing Arts in 2015. Jefta van Dinther's work is characterised by a vigorous physical approach and nearly always involves a staged research of movement itself. The moving body is the centrefold in his work, interacting with light, sound and different materials to come together as a whole. His works deal with notions of the visible and the invisible, light and darkness, illusion, affect voice and image.
#revolution #PillarOfSociety #GroupChoreography


<link http: www.tqw.at>www.tqw.at
opening hours
| | |
| --- | --- |
| mo-fri: | 10 – 18:00 |
| sat-sun: | closed |
---
Back to main navigation